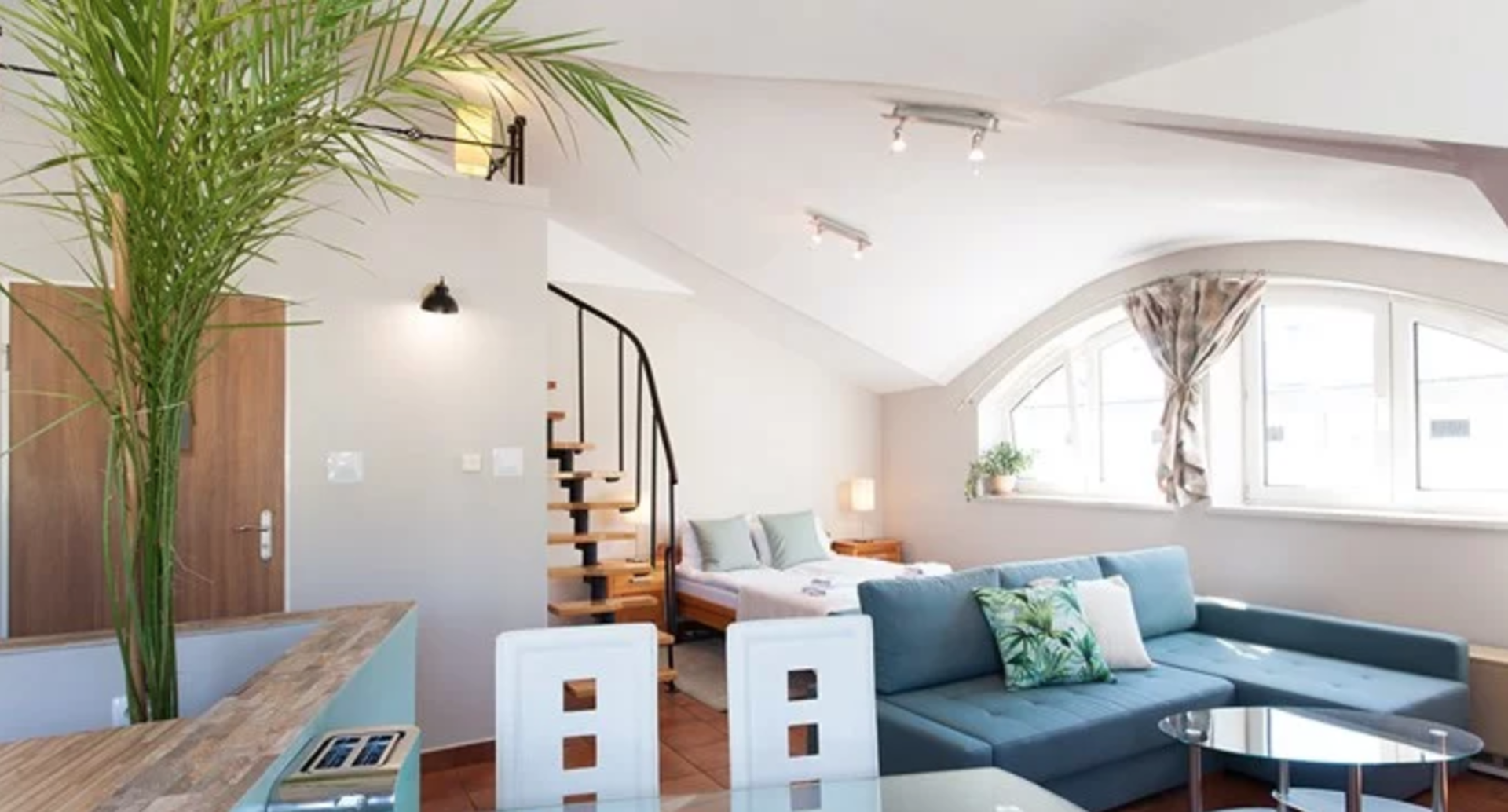 MONA LISA IV - UNIQUE STUDIO, KAZIMIR
Number of guests:

7
Size:
50,00 m2
1 bedroom
2 double sofa beds
, 1 double bed
, 1 single sofa bed
Amenities
Full kitchen

Kitchen

Refrigerator

Bathroom amenities

Shower

Cable television

Satellite television

Hairdryer

Iron

Pets allowed

Kitchenette

Room service

All public areas non-smoking

Children welcome

Free Wi-Fi
Room properties:
Number of bed:
2 double sofa beds, 1 double bed, 1 single sofa bed
Rules and fees:
Opening hours:
11:00 - 01:00
Additional information:
Hotel night: 2pm - 11am. It is possible to check in after 11:30 pm. Additional fee is 60pln.
Additional information for bookers:
Additional options:
Additionally charged while booking:
Breakfast

7.25 €

(per person per night)

Air port shuttle

(per stay)

Air port shuttle 1-4 person24 €
Air port shuttle 5-7 person32.5 €

Baby cot

15.00 €

(per stay)

Auschwitz - Birkenau Tour

43.75 €

(for the amount)

Salt Mine Tour

43.75 €

(for the amount)
Apartment in the heart of Kazimierz - spacious and comfortable. Modern apartment for 1-8 guests, located in the heart of Kazimierz - the old Jewish district of Cracow - currently the center of cultural and social life. GREAT LOCATION: 1 min from where the PLAC NOWY, the centre of the cultural and amusement, where You can find: famous Endzior's casseroles, pub Alchemy, many more pleaces with unrepetitive atmosphere. 7 minutes to Wawel Castle, 9 minutes to Market Square. Note: the apartment close to shopping centers: Kazimierz,Krakow and Bonarka Galleries. Studio is located in a modern building on the fourth floor with a view of the northern and eastern side. The building has an elevator.
Open speace, bright, one-bedroom apartment, of which nterior diversifies the mezzanine area of 140x200cm. The high calling and untypical structure provide a creative aura for demanding guests who seek a quite shelter in the center of a lively neighborhood
IN THE APARTMENT:
The apartment consists of large room, spacious fully equipped kitchen / kitchenette / island- hall equipped with cab furniture - wardrobe and bathroom, equipped with a large comfortable bathtub with shower, hair dryer, iron
ROOM: - solid bed 140x200cm- 2 comfy sofas, which can be spread to sleep - dimensions 140x200cm - dinner table, four chairs - INTERNET WI-FI 6mb / s, ADSL, TV, CD, DVD, satellite TV, stereo
KITCHEN - refrigerator, four-burner kitchen (induction hob), microwave, oven, electric kettle, cutlery, pots and pans, crockery, glass.
PARKING: -on the street - Saturday, Sunday and public holidays - no fees, Mon. - Fri. 10.00 - 20.00 - Pay hr urban zone. 3 zł/h) possibility to park in the guarded parking lot - 500m from the apartment - the price of 45 PLN/ day.
PRICE INCLUDES: towels, bed linen, final cleaning, internet and all fees.
The guarantee of the lowest price of rooms only on our website
Immediate booking confirmation
We guarantee full transaction security
Thanks to online payment, you can immediately confirm your reservation.